Go mobile with 4D
Let's see what 4D for Mobile can do in less than 2 minutes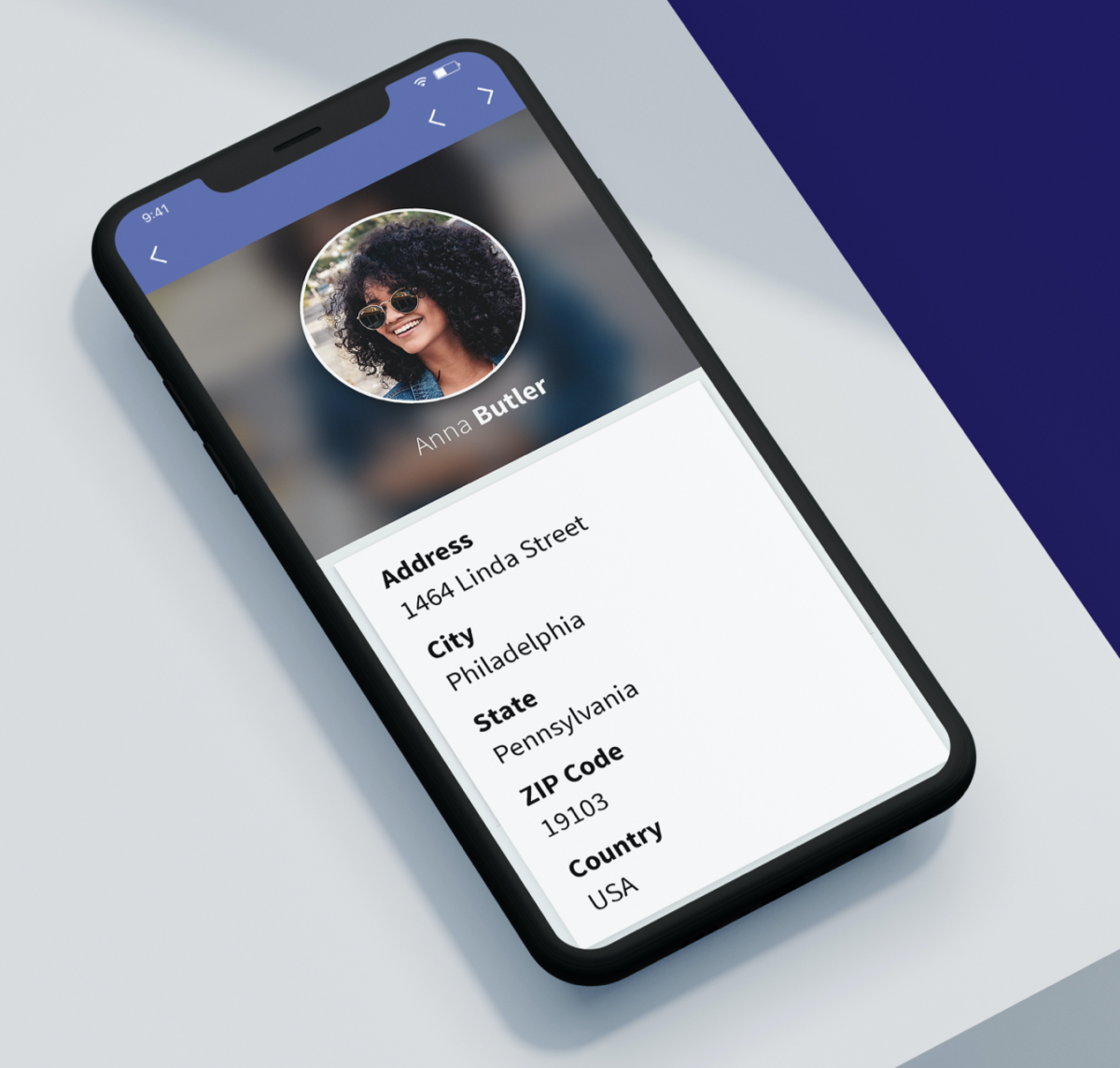 Carry your business in your pocket
Track sales, manage contacts, handle invoices... everything you need in a native mobile app to perform business tasks right from your mobile device.
Break free from the shackles of your desk and conduct business on the go. You can easily interact with your business from anywhere, thanks to this intuitive, integrated-in-4D solution.
Whether you want to use an existing business app or create a new one from scratch, 4D has everything you need to quickly build and deliver native mobiles apps… without you needing any specific platform or framework knowledge

Go Mobile Now
Check out the latest feature release and take advantage of the latest enhancements.
Download
Powered by 4D
The product is fully integrated in 4D.
In addition to easily building native mobile apps, this integration is ideal for harnessing the power of a platform that has been growing businesses for decades.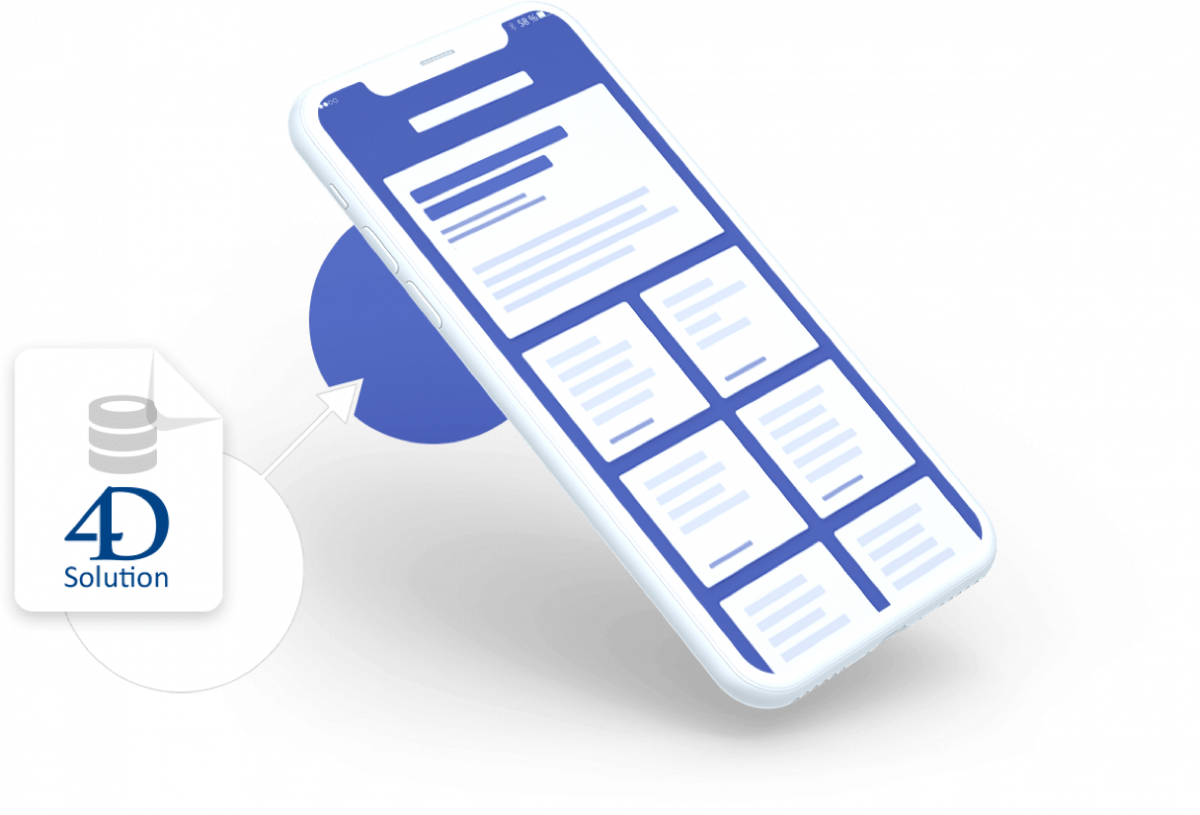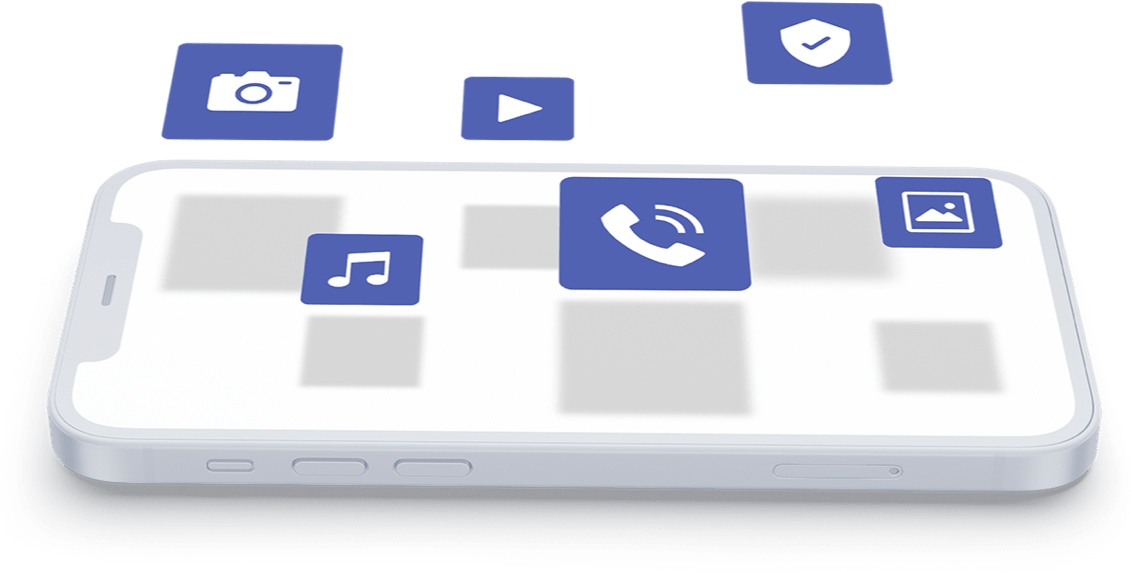 Build native apps
A native app provides access to all platform and device-specific features. You not only benefit from the security and data protection of 4D, building a native app allows you to easily follow a platform's guidelines and provide a stellar user experience. Native apps are also fit for being published on application stores and can now even be used on desktop operating systems – Apple M1 for iOS apps, ChromeOS for Android apps!
Move faster with No-Code
There's no need to hire an expensive iOS or Android developer, because you can build native apps quickly and easily with clicks (not code)! Want to go even further? Build your app with no-code, then kick it into high gear by customizing the mobile app's source code using Swift or Kotlin.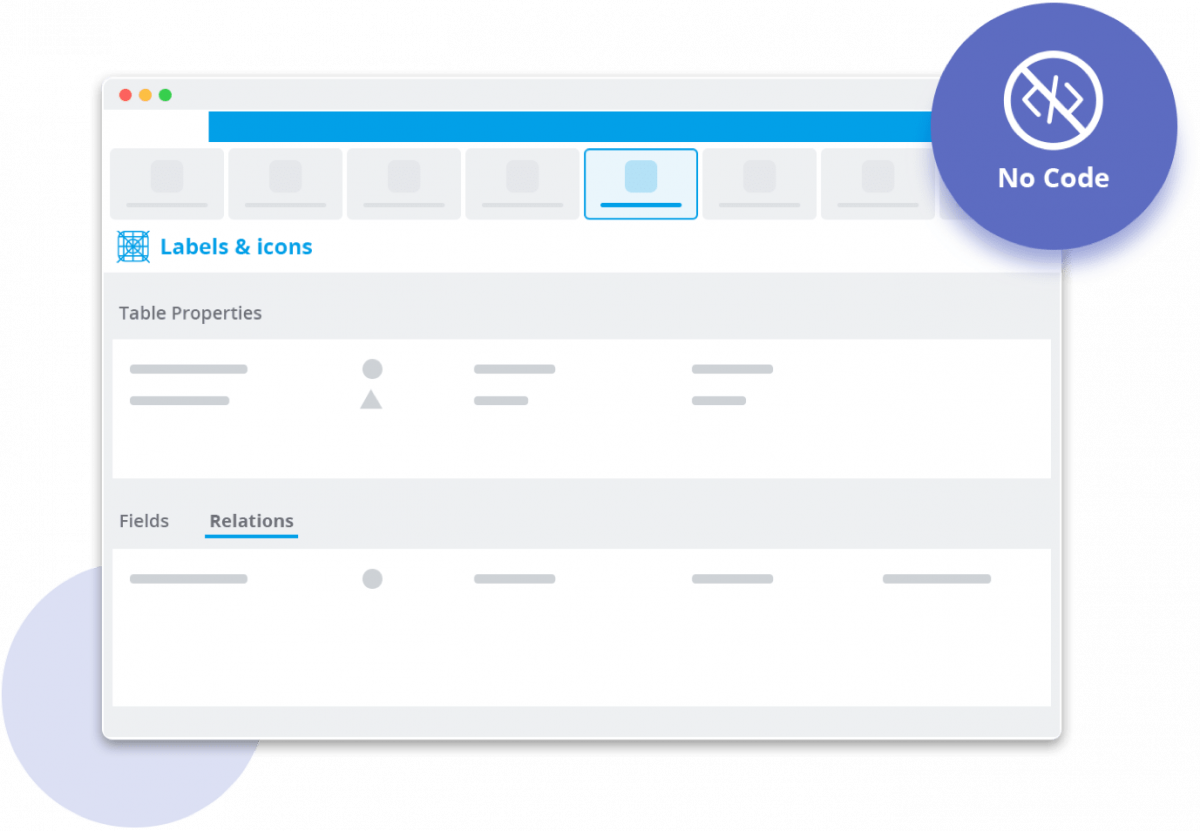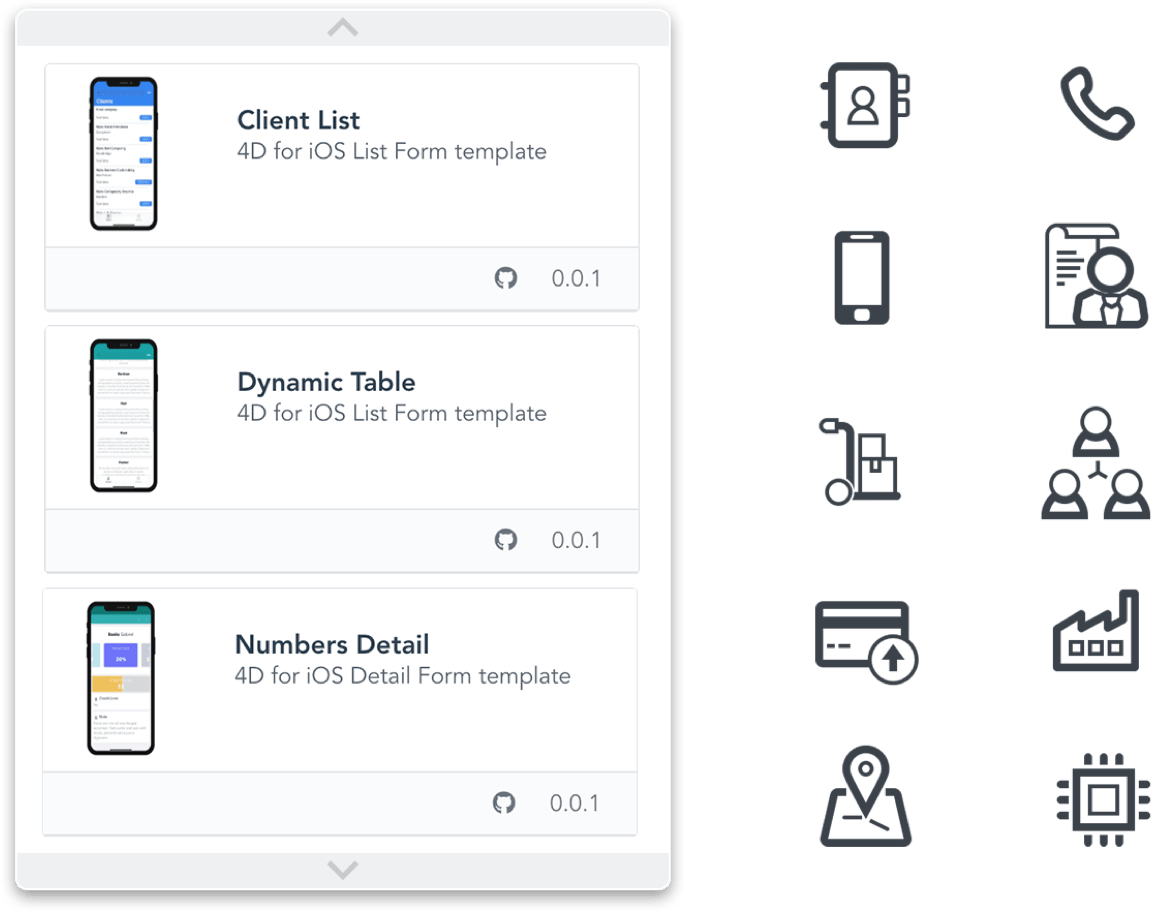 Increase productivity
Thanks to its integration in 4D, the product includes a growing number of predefined form templates and a large icon library to let you build mobile apps in record time!
Create superb mobile experiences
Take advantage of UI design, fully optimized for mobile devices to create a fantastic experience for your users .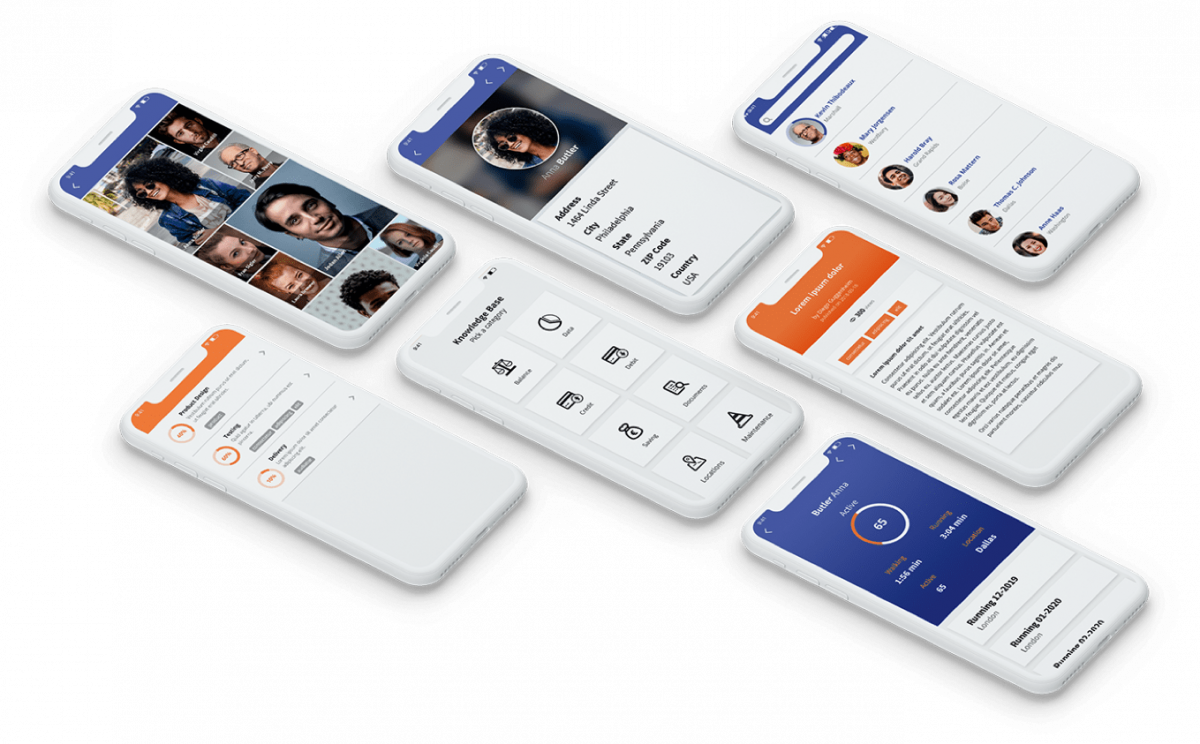 "We tried to make an iOS application, but it took too much development time. So we tested 4D for iOS. This technology, fully integrated into 4D, allowed us to quickly create a mobile extension of our custom ERP, to manage our on-site interventions. This application, which runs on iPad, now replaces paper forms while avoiding duplicate, manual data entries. It also triggers invoicing at the end of the interventions".

Documentation
Everything you need to know about 4D for Mobile
4D features on your mobile device
Packed with advanced features
Share content
With a single click, share the content you're currently looking at with anyone.
Deep Linking
Send your user straight to the right place with a direct link to your app displaying the correct page.
Deliver Notifications
Send notifications and provide users with relevant information to engage with an app.
Offline Support
Have up-to-date data at hand… even when you're offline.
Bar Code
Scan barcodes to search records in your data while you're on the go.
Accept Signatures
Extend the capabilities of your app by including templates that use signature areas.
Capture Images
Add or replace pictures by selecting them directly from your library or using your camera.
Filter Data
Restrict access to data according to the user. Only the data that the user is authorized to access is available.
Display Location
Allow your users to touch an address on screen to automatically display a map showing the location.
User Management
Use authentication to determine the identity and legitimacy of the person trying to log into your app.
Interact with other apps
Add value to your app by using formatters to interact with other native apps (e.g., display your itinerary with Apple Map or dial a phone number).
Actions
Declare CRUD or custom actions for tables, selections, or entities and they'll automatically display at the right place, even when offline (coming soon).